Unlike the bundles, compressed gases MEGCs are commonly used for high pressure (typically 200÷300 bar) gas transport and distribution in large quantities; depending on the gas transported, the type of distribution and organizational requirements several solutions are possible:
removable MEGCs: allow the transport of medium / high quantity of gas while maintaining a high degree of flexibility; it is in fact possible to transport them with a regular container vehicle (usually 20′). The latter, when equipped with full air suspension, can independently unnload the full CGEM and take away the empty one without lifting equipment, simply by acting on vehicle suspensions
Pressure tubes trailers: main components are high-pressure vessels (usually 200 to 250 bar) with high unit volume capacity (1,500 to 2,500 liters each). They allow high payload and high stability on the road (the center of gravity is low). Each unit must be optimized for the gas transported and applicable legislation in the destination country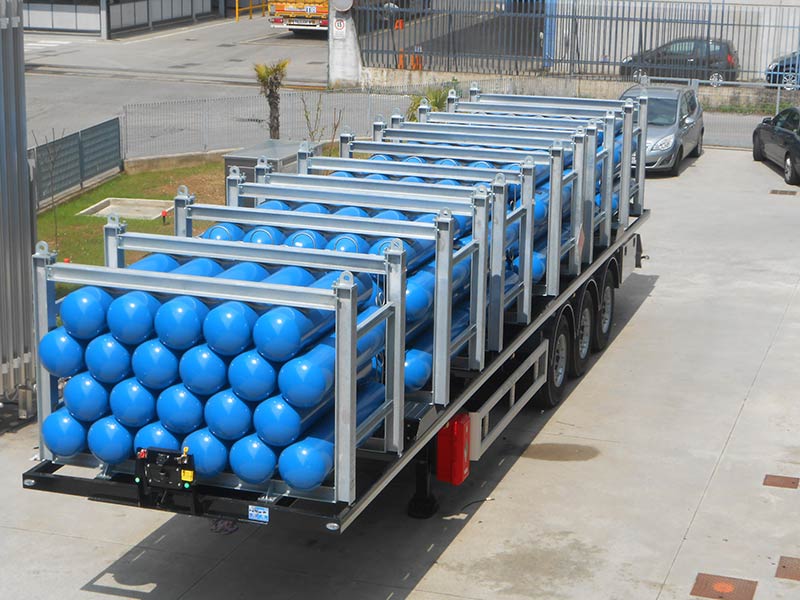 Cylinders trailers: They are the solution, among those with all-steel cylinders, which allows the highest payload. The cylinders can have unit capacity from 40 to 160 liters and working pressures from 200 to 300 bar. They are installed on chassis that meet the requirements of the destination country (max allowable load, type of axles and suspensions, etc.).
MEGCs with composite cylinders: type IV cylinders, with non-metallic liner and carbon fiber winding, allow high operating pressures (250 bar) with a cylinder weight equal to less than half of the best correspondent type I (all steel) cylinder. The unit composed of type IV cylinders therefore allows a payload unreachable for all other types. The typical configuration is a 20′ module (with  container-type blocking system and eventually grouped two by two on semitrailer or with hooklift) or fixed semitrailer.